What's the best beach in Cinque Terre? They offer a wide range of beaches and swimming spots, but every village has its peculiarities…
Let's start by saying the main differences between one beach or another depend on the structure of the coastline and the typology of soil.
For example, if you are looking for a beach made of pure sand as the Australian ones, let's be honest: you are not going to find it here. But let's start to see what are our alternatives!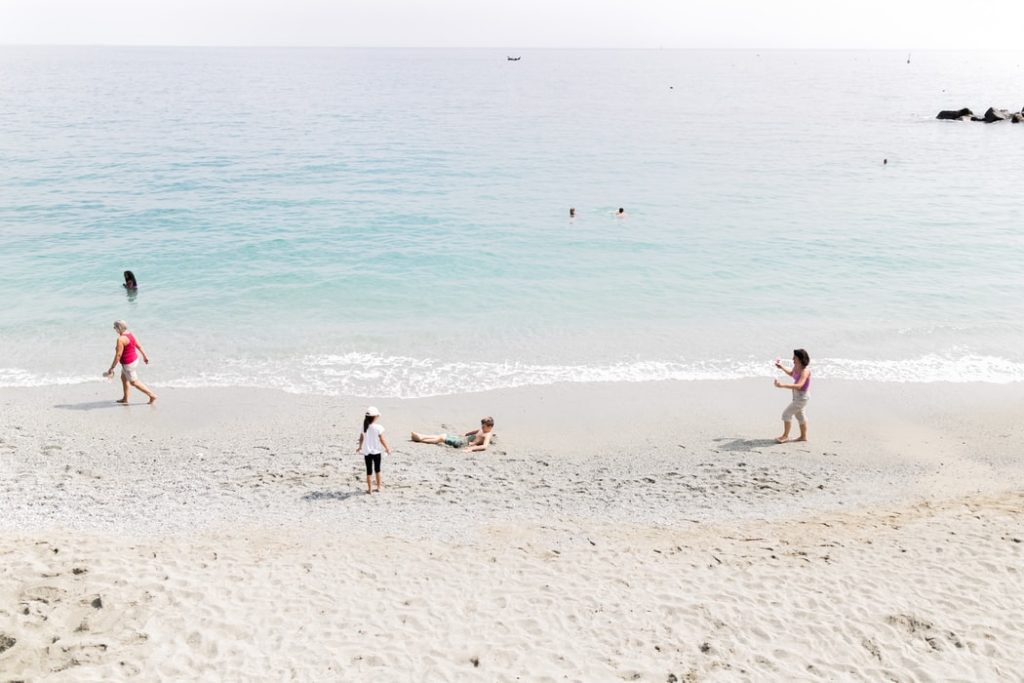 Cinque Terre: Beaches of Riomaggiore
In Riomaggiore, you will find a small beach just after the ferry's dock. It is made of small rocks and due to sea erosion is smaller from year to year. It's pretty steep and often people prefer to stop at the marina to swim and dive.
The Marina has not a proper beach, but you can sunbathe on the rocks. To access the water there are some stairs and also some rocks from which you can dive.
The Beautiful Monterosso
In Monterosso you will surely find the most attractive beaches: the village offers a long promenade with resorts but also free access spots. Its shores are made of pebbles and sand and are the best you can find to lay down and take a sunbath. Monterosso's beaches are also the best alternative if you have kids or for elders.
Cinque Terre: Vernazza's Beach
In Vernazza, there are two swimming spots: a small sand beach inside the marina, just in front of the main church, and a beautiful beach made of rocks and pebbles on the other side of the village.
The first spot is pretty crowded during summer since it's made of sand, but it is a good spot for toddlers and children to play.
The best one:
The second spot is a beautiful beach, probably the more picturesque of the Riviera. It's mainly made of pebbles as the seabed, but the water is often crystalline. The entrance is composed of a tunnel in the rock, which you will find in the middle of the main street of Vernazza.
Guvano Beach in Corniglia
As you may already know, Corniglia is the only village uphill, which means it has no direct access to the sea.
However, it is linked to the beach of Guvano, pretty famous in the Riviera. It is located between Corniglia and Vernazza and you will have to take a tunnel from the station to reach it. After 15 minutes you will arrive at the beach. There is an entrance fee of 3 euros because it's part of the trekking system, but it's absolutely worth it.
The beach is made of pebbles and rocks and in the 70s was known as a nudist beach. I suggest you check out its openness before going because it is also subject to sea erosion.
An alternative to Guvano, it's a small bay reachable from the village of Corniglia, descending a small path on the left. There is no beach, but you will find some flat rocks from which you will be able to dive.
Last but not Least, Manarola
Manarola's structure is such a symbol of Cinque Terre, that also its "beach" has to be made of rocks. As you can see from the famous pictures around the web, this village has not proper sand of pebbles beach, since its marina is all made of cliffs and rocks. People usually sunbathe on rocks and short walls around the harbor. You will be able to access the water thanks to some dedicated stairs and ladders.
Curiosities:
Manarola has two peculiarities: the first is that you won't be able to touch the seabed, but just some rocks. The second is that the "beach" is also famous for its diving spots, pretty popular among locals.
Tips by Locals:
The nearest sandy beaches are in Lerici and Venere Azzurra, two small villages on the right side of the Gulf of Poets. From La Spezia, you will be able to reach them by taking a bus (L route).
For kids: Monterosso and Vernazza (marina) are the best solutions.For teens/young adults: I suggest you Manarola or Vernazza beach, it is also where most of the locals usually hang out if you want to socialize!
Elderly: Monterosso has some facilities from which you will be able to also rent a sun lounger.