Are you looking for the perfect stay but also for a cheap deal? Here you go with some tips and tricks by locals for the perfect accommodation to visit Cinque Terre. Remember: Strategy is the key…
Cinque Terre are full of Airbnb, B&Bs, and Hotels, but in addition to the summer crowds of tourists, you have to consider the costs.
The best alternatives and tips:
1 Consider staying in La Spezia city center: it is quite close to Cinque Terre (5 to 15 minutes by train) and near the station, there are lots of cheap Airbnb but also hostels for backpackers and hotels.
Let's clarify: La Spezia is a small town. You can consider also staying in neighborhoods in the historical center where you could also enjoy the nightlife. One street you can use as a reference point is Via del Prione. It crosses the city center and connects the harbor with the train station.
My advice is to search for your accommodation on Airbnb, it is the main channel used here and there is a wide variety of solutions at different prices.
2 If you want to stay in one of the villages I suggest you search also on booking.com. If you are a backpacker, the only hostel we have is the one in Corniglia. It is pretty small but can be a strategic solution for your daily itineraries considering that is in the middle of the Riviera.
Update 2021 – The hostel in Manarola is temporarly closed.
Monterosso and Riomaggiore are the ones with more accommodations because are the biggest villages, so start from them to look for your deal.
The alternative solution to sleep in Cinque Terre
3 Another solution for backpackers is Porto Venere. Maybe you would have to modify a bit your itinerary but trust me, it's worth it.
Porto Venere is located on one extremity of the Gulf of La Spezia and it's a stunning place even more beautiful (and undoubtedly less crowded) than Cinque Terre. You can arrive there from La Spezia by bus (about 20 mins) and it is connected with Cinque Terre in two ways: ferryboat and hiking trails. I believe it is an alternative panoramic solution that you would enjoy. It is small but full of Airbnb and there is a hostel that offers a stunning view of the village.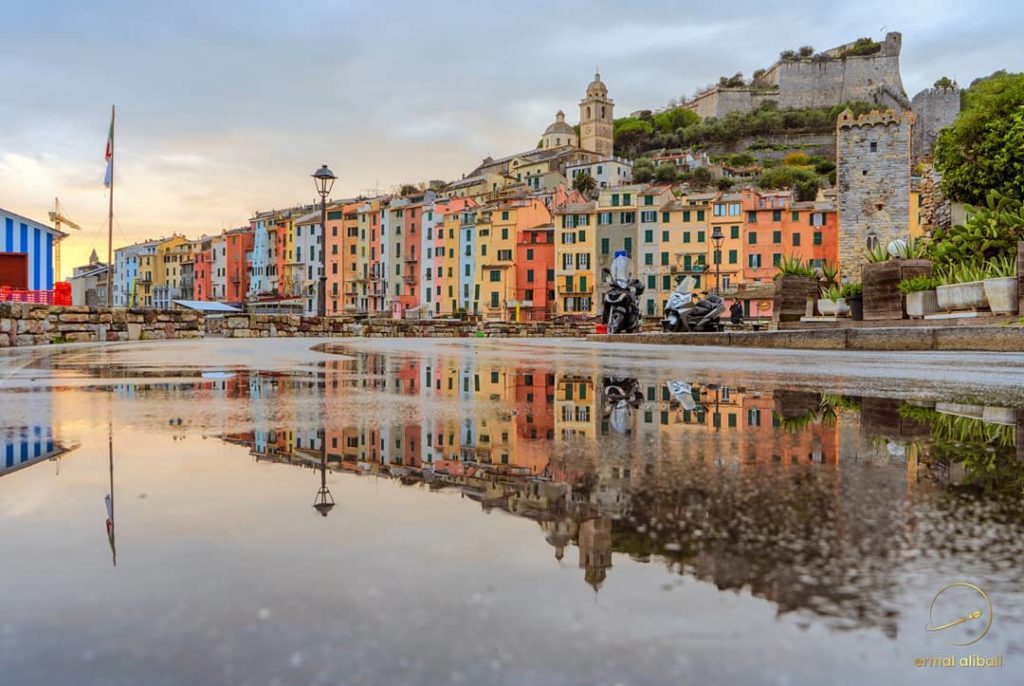 4 Another place to consider if you are coming from Genoa or Milan is Levanto. It's a small town just before Cinque Terre and it's frequently used as a pitstop and place to sleep.
Tips by locals:
– If you are looking for a 360° experience La Spezia city center offers you nightlife activities, pubs, and restaurants of any kind. It also is strategic if you want to visit both Cinque Terre and the Gulf of La Spezia.
– Porto Venere is the most suggestive alternative and I also recommend it if you are hikers or a couple, it's a romantic place surrounded by nature.
The hiking trail from Porto Venere to Riomaggiore is quite long but amazing. It takes about 4 hours (after 2 you'll find the small village of Campiglia).
– If you are not coming during summer, I suggest you stay in La Spezia. In the low season, many stores and restaurants of Cinque Terre are closed. If you instead decide to book a place in the villages anyway, I suggest you an Airbnb with a kitchen to be autonomous.
ATTENTION: The hostels called 5TerreBackpackers are NOT in Cinque Terre. There is one in La Spezia (pretty strategic) and one in Beverino. I do NOT suggest this second one, because is in the countryside of La Spezia and not really practical to stay. The same story for the one called "Hostel Tramonti" it is not in La Spezia and it is not in Cinque Terre. It is located in Biassa, a small village between the city center and the road for Cinque Terre. Also, this one is not in a too convenient location unless you enjoy walking.